Columbia River Gorge, Ore. — Oct. 20, 2022 – Nesmith Point and Wyeth Trails reopened today for the first time since the 2017 Eagle Creek Fire.
Nesmith Point and Wyeth Trails were brought back to life through the hard work of U.S. Forest Service trail crews, Northwest Youth Corps, American Conservation Experience, and in particular, Trailkeepers of Oregon, which dedicated more than 2,000 hours to rehabilitating these two trails. Over 17 months, Forest Service and partner crews dug through mudslides, cast aside rockslides and used crosscut saws to remove hundreds of burned and windfallen trees to re-establish these rugged wilderness trails.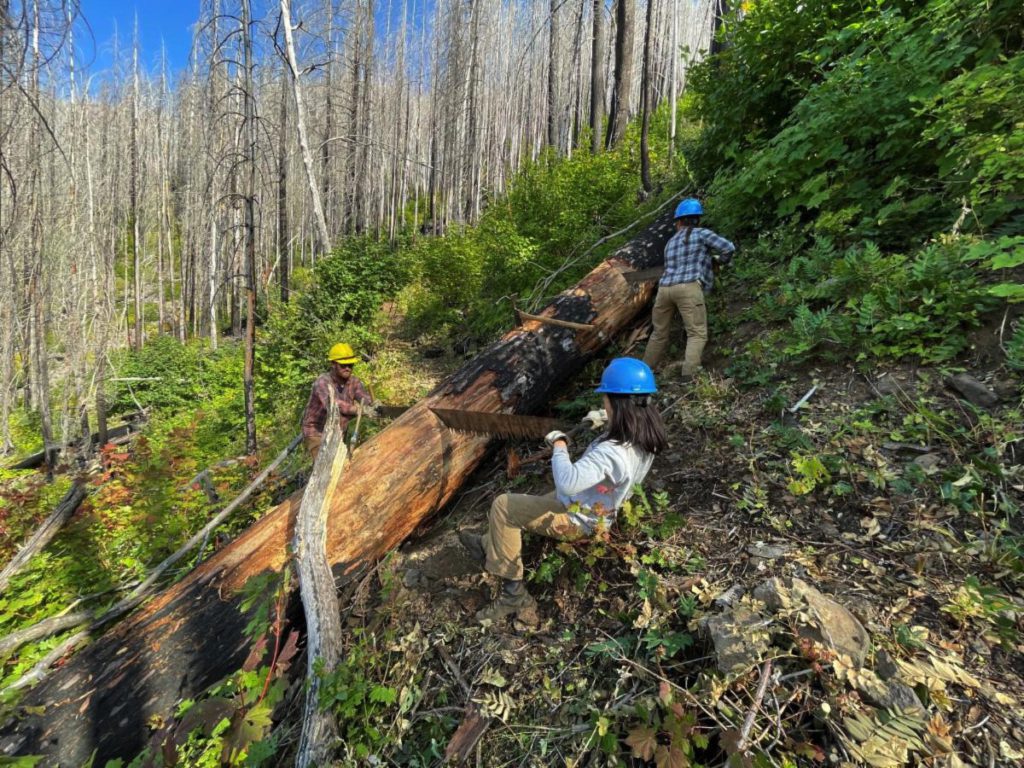 The Nesmith Point Trail (#428) starts at the John B. Yeon State Park Trailhead and is a favorite early spring conditioning hike. Nesmith Point is the highest point along the cliffs lining the Gorge and offers a steep climb with switchbacks through a spectacular box canyon and views of both Beacon Rock and Mount Adams.
Starting in the Wyeth Campground, the Wyeth Trail (#411) enters Mark O. Hatfield Wilderness and continues within the National Scenic Area for the first five miles before crossing the boundary into Mt. Hood National Forest. It can be combined with other trails for a long backpacking loop and is the eastern terminus of the Gorge Trail #400.
The Eagle Creek Fire of 2017 dramatically affected the trails, with widespread loss of trees and numerous landslides. As in any wildfire scar, hikers should know the weather forecasts, be alert for hazards, and be prepared with the Ten Essentials. Hikers should continue to avoid areas burned during Eagle Creek Fire during and immediately following high winds, heavy rains, and winter storms, as these conditions continue to trigger tree fall and debris slides.
While many hiking trails in the Columbia River Gorge have re-opened, five trails remain closed until trail crews are able to rebuild or reroute the trails as well as remove hazards caused by the fire, which destabilized the landscape when it burned away the vegetation along steep slopes.
Visit: https://www.fs.usda.gov/recmain/crgnsa/recreation to check the status of Forest Service hiking trails in the Columbia River Gorge.
Visit: Ready, Set, GOrge! for more hiking and recreational options throughout the Scenic Area.
# # #
Link to: Forest Order and Map
Media Contact: Karen Davis, U.S. Forest Service, (503) 522-8377